Yes I know it's been some time since I posted but I have a good reason (and a note from my mother).
In the spring of this year for about two months, I volunteered for reading galley submissions for a program at work promotes new and unknown writers of substance. This meant, for me, reading about 16 galleys for books released in the Fall of 2006 and taking the train into New York City - almost 2 hours journey for me - once a week to report if the book was worthy or not. Out of the 16 books I read in 8 weeks, 5 were selected for this program, and, just so you know my mouth is where my money is, I bought 3 of them for myself. I can't have you thinking I don't stand behind my opinions.
So for a while I was in reading boot camp, trying make sure I could keep up with the pace and making sure I was clearly and honestly reporting on a book's merits. I did enjoy the process, read some wonderful books and met some folks in our corporate offices with heavy responsibilities. Yet, it took a lot of time and energy and afterwards I played catch up with the other things that I claim as my life. Vacations, work, family conspired to keep me away from this blog.
Recently, I finished the same program as I did in spring, reading about 13 galleys in about 6-7 weeks of early 2007 titles (this time only 4 of my reads were worthy).
So I have no excuses and it's back to business.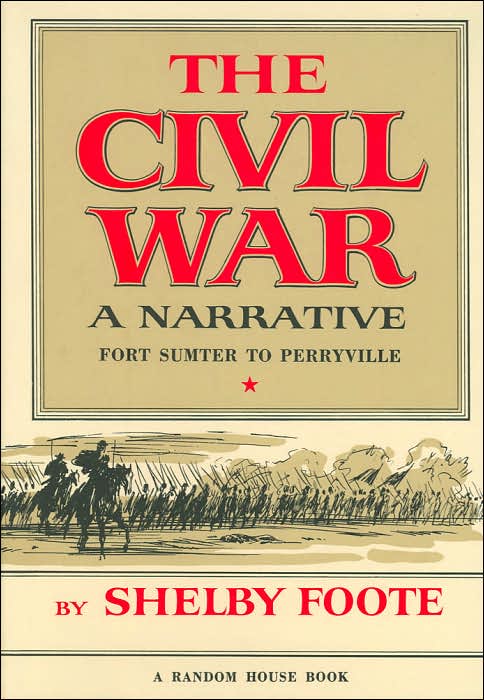 Right before participating in the new author program, I bought
The Civil War, A Narrative: Fort Sumter to Perryville, Vol. 1 by Shelby Foote (
ISBN: 0394746236 and 0307290425) and made the mistake of starting it knowing that I would not finish it's 800 plus pages with the required reading I was about to do. I can't express just how wonderful is the prose, how rich the detail, and how American the voice is. It is quite simply one of the best books I have ever read and I can't do this book enough justice. Just go buy this book and make the time to read it. I hope to read all three volumes but I suppose it will take me a lifetime as will
Ulysses
and
Moby Dick
and all of Shakespeare's plays.
HIGHLY recommended!